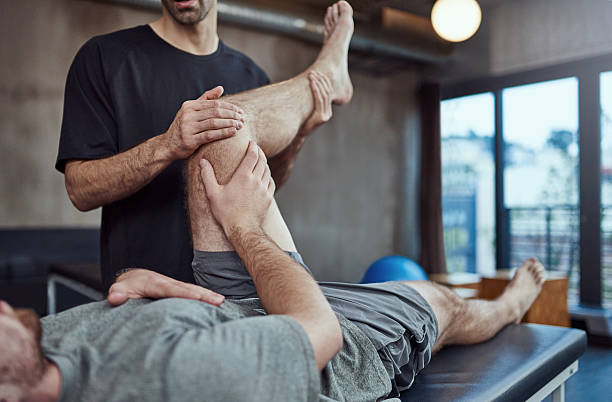 My Continued Journey Back from Injury
For those who read my last blog, you will know I suffered a sports injury and was unable to continue playing the sport I love, and this had an impact on me both physically and mentally. For those who may not have read it, I would appreciate your time if you do wish to go back and read "Chase Your Troubles Away." If not, below is a short recap.
I suffered an injury to my right leg while training with my Sunday League football team prior to Christmas in 2022. The injury stopped me from playing as I was unable to walk well let alone play a high-intensity sport. Football was my coping mechanism and break from 'the real world' and all other pressures such as home and work life as well as ongoing issues such as the cost of living and so on.
The purpose of this blog is to highlight the effects losing a hobby or interest can have on a person and to help others who may be going through similar, know that they are not alone. Hopefully, it will also show despite the road to recovery sometimes being a lonely and challenging place, it will all be worth it when fully recovered and able to do what it is you love.
My mental health was affected as I was unable to play and have this break time and it was an ongoing thing as the injury kept on reoccurring each time I tried to play again. My frustrations grew and after a long lay-off I sought help. This is where the story will continue…
After attending a physiotherapy session, it was clear something was not right as after 3-4 months of rest, recovery and not playing football, I had no pain in my leg at all, I had continued doing a lot of walking as I don't drive and faced no issues with it.
The physiotherapists stated there was definitely a muscle tear but the extent he was unable to identify. He referred me back to my GP to try and arrange an Ultrasound or MRI scan to determine the damage which I did.
The GP informed me that he would try to book the required scans but was not hopeful about how long the waiting list may be with knee/hip replacements taking priority. He felt by the time I received an appointment the tear would have healed itself. Weeks passed and I heard nothing, but I was again, pain-free and felt good.
Seeming as if I was not going to receive an appointment for either scan, my frustration intensified, and I ran out of patience. I decided to try and train again with my team's new football season fast approaching and with me also wanting to raise my fitness levels in time to play and fight for my place in the team. I took part in training and felt fine running and was able to play freely with no trouble which was great. I was back and able to play!
I also then received an appointment for an Ultrasound scan so I decided to be smart and not play again until I had the scan in a few weeks so I could know then if the injury had healed or not. I would then have answers on how to recover and what was needed even it wasn't fully healed. I was making progress and felt a lot more positive…
Unfortunately, the ultrasound couldn't pick up a tear in my thigh, but they could see some of the ligaments in my knee attached to the muscle which alarmed them. They stated an MRI would be needed to see if they were attached and if not, an operation and long lay-off would almost be certain. From ecstasy to agony, I felt I had gone 1000 steps backwards in my recovery.
I patiently waited for the MRI scan date and refrained from playing any more football games or even training. A walk to the bus to and from work was the most I was doing. I was very nervous about the MRI scan and any results that I were to receive. I arrived and went ahead with the scan where they seemed to focus only around my knee which I felt was odd despite the pain being in my thigh, but they were the professionals, and who am I to question it, right?
Two weeks after the MRI scan, I received a call from my GP. They wished to see me to discuss my results and wanted to do this in person, not over the phone. Fearing the worst, I sat down and spoke with my partner after work and aired my concerns to them fearing the worst. Why do they need to see me face-to-face? Something must be wrong, I'm going to need an operation. How will I cope with the kids and at work after this?! I made an appointment to see them the following day so that my anxieties and worries did not continue to fester and get worse.
I sat down and spoke with the GP who was very calm and reassuring. It turns out it was a lot of worry for nothing! The MRI scan came back clear, and they could see everything attached to the muscle and where it needed to be!
A weight off my shoulders lifted and a HUGE sigh of relief. I spoke about the fact I felt that there was more focus around my knee and not my thigh and she explained this was because nothing was shown on the ultrasound when scanning the thigh and that was confident the injury had healed as we were now 7 months on from the original injury. I called my partner and mom to pass on the good news, I was back and able to play again! No operation was needed!
I was very happy and pleased to be able to start again and play the game I loved. I confirmed my attendance at football training the same week ahead of our final few league games of the season where we would push for a higher finish in the table and a positive finish!
There is more to share, and I look forward to continuing to share my story in part 3 which is coming soon!
We all have hobbies and interests that help with our mental and physical health. Imagine that being taken away from you and being unable to perform or take part. It was highly frustrating and did affect my mood, especially at home where I felt I needed a break after a busy week at work and then spending time with the children who at ages 1 and 4 are quite demanding.
I did not have that time away for a break and release and this got me down. I did not want to take my bad mood out of my loved ones or friends. I did all I could to stay calm and had to be more patient than ever as I had never experienced this before with a long-term injury.
Many others may be going through the same, it is important to seek help and speak about your feelings rather than bottle them up and let them manifest. Speak to your loved ones, family, and friends, try to find another hobby that you are able to complete with comfort during your recovery, seek professional help and speak with a therapeutic clinician.
Examples of Professionals Who Have Had Career-Ending Injuries and Their Stories
Even professionals who use the highest technology and have the most support will also experience long breaks due to injury. Some even have their careers ended early which has proven to be detrimental to their mental health. Below are some examples of athletes who have experienced this and their stories after a forced retirement from their sport.
Dean Ashton, football player – Dean Ashton was a former Crewe, Norwich, and West Ham United striker. After highs of reached the FA Cup final and receiving his first call up to the England National Team, he unfortunately broke his ankle in August 2006. After recovering and then getting another injury to same ankle in 2008 during training, he was forced to retire the following year at just 26 years old. https://www.youtube.com/watch?reload=9&v=MWvPisD4fog&cbrd=1
Tony Conigliaro, Baseball Player – Tony was supposed to be one of the greats. He still holds the record for most home runs by a teenager in Major League Baseball (MLB) history and is the youngest player to hit 100 home runs behind Mel Ott. Conigilaro, a Massachusetts native, was on Boston's "Impossible Dream" team that made it to the '67 World Series behind Carl Yastrzemski's Triple Crown performance, their first World Series appearance since 1946. In August of '67, he was hit in the cheekbone by a pitch that broke his jaw and severely damaged his eye. Tony made a couple of comebacks, even hitting career-highs in home runs (36) but his sight kept deteriorating and he was forced to retire for good.
David Silva – Football Player – A more recent story is that of David Silva. The Manchester City legend David Silva was forced to retire from football after a brutal injury. Former Manchester City star David Silva has confirmed his retirement from football after suffering a devastating knee injury. The Spanish international, 37, spent a decade with Manchester City after joining from Valencia in 2010.
https://www.goal.com/en/news/man-city-spain-legend-david-silva-announces-retirement-from-football/blt4cae1a39460ad7d4
How The AoC Can Support you Further
We appreciate exercise isn't the cure for everything and not everybody will find it helpful, and they are better suited to other methods such as counselling and therapy to heal a wide range of mental health issues.
The AoC can offer professional counselling and therapy support to anyone in need either face-to-face or online via video call meaning we can support you worldwide. Our qualified and experienced therapeutic clinicians can offer guidance and support as well as a private space to speak openly both individually, as a couple, group, or family. Our support is affordable and quicker than most other services such as the NHS and CAMHS.
If you would like more information on how we can support you, do not hesitate to contact us at 01384 211 168 / support@theaoc.org.uk. We have a wide range of therapeutic clinicians with vast experience who use creative modalities such as art therapy, play therapy, dramatherapy, CBT, and traditional talking therapies too.
Become an AoC Trust Champion!
You could also become an AoC Trust Champion! We need your help to continue providing life-saving therapeutic support to clients in need. You can pledge as little as just £10.00 per year which will go towards offering free sessions to clients and patients who may feel tomorrow is just too hard. Other donation amounts are also welcome.
Waiting lists for funded therapy are at a high of almost two years. Therapy changes lives and sometimes saves them too. You can donate at the following link – https://donorbox.org/the-aoc-trust
Thank you for your continued support and thank you for reading.